This guide will walk you through setting up your VPN link.
Important Notes
Please read the following carefully:
Notify A-Team Systems immediately if a device which has VPN access is lost or stolen so we can de-authorize it. If you recover it later we can easily re-enable it. This is extremely important for security. This also applies if your device is recalled (i.e. by your I.T. department) or you get a new one and are no longer using the old device.

Connection configuration and keys can only be used on a single device. Do not copy the configuration you have been provided to any other device. If you need to connect another device (i.e. laptop, desktop, etc) simply let A-Team know and we'll set you up with an additional configuration.

MacOS X 10.7 or newer is required.
Let us know if you have any questions or concerns!
Download And Install Viscosity
Mount the image by clicking on the .dmg file, usually located in your downloads folder. The following window will open: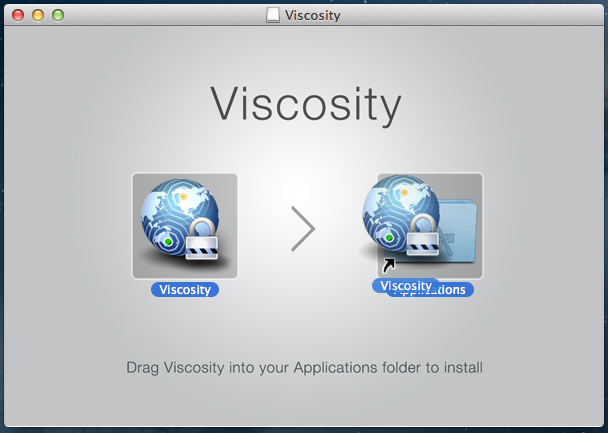 To install simply drag the Viscosity icon into the Applications folder as shown.
Download And Install VPN Configuration
A-Team Systems will have provided you with a link to download a zip file which contains your VPN configuration and authentication keys. Once downloaded, open the resulting folder (you may need to extract it from the zip file) and double click on the .ovpn file: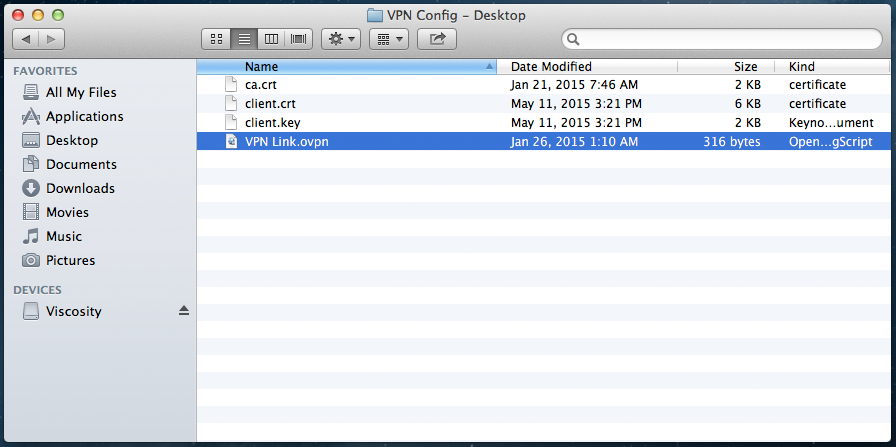 You may see a pop up asking you to confirm that it's OK to run Viscosity, click Open: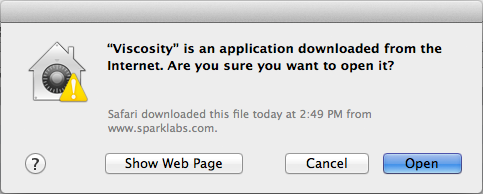 You may also be prompted to install the Viscosity Helper Tool, click Install if prompted: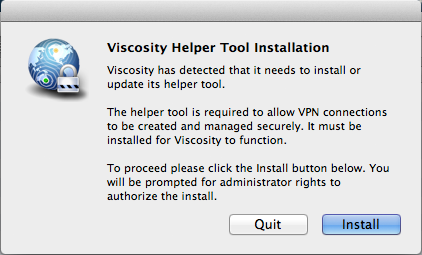 You should now see a Connection Imported confirmation screen: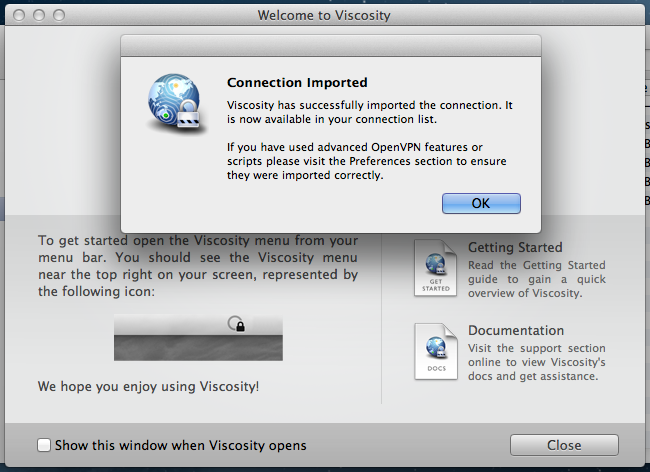 Close these dialogs and you're ready to connect!
Connecting
To connect, click the Viscosity icon in the upper right (when Viscosity is running) and pick "Connect ..." from the pull down: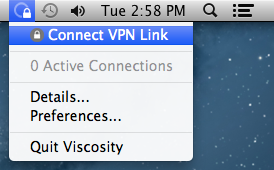 You will see a connection confirmation after a few moments:

You are now connected to the VPN!
Disconnecting
To disconnect, use the same Viscosity pull down menu in the upper right and choose 'Disconnect ...'
Clean Up
For security you should remove the connection configuration zip file or folder that you downloaded (and empty your trash) as this is now stored inside Viscosity.